I'm not sure why I have been glued around the clock for the past seven days to the BBC World News TV coverage of the death of Queen Elizabeth and the birth of her son as King Charles the Third. And I will be glued again till her funeral service next week. Memories
Maybe it is because my grandmother Nana way back in the 1890s saw a notice in the Strand in London urging people to migrate to Western Australia. And she, a young single girl in a family of ten children in Chichester, England, made a sudden decision to board an oldstyle wooden boat and travel alone to the opposite side of the world. Gutsy!
In Fremantle, the port city for Perth, the capital city of Western Australia, she opened an English teashop and catering business, and married my grandfather, a veteran of the Boer War who became the superintendent of the aboriginal convicts on Rottnest Island, at that time a prison. In looking back, I realize that Nana and her husband, my grandfather who was already dead when I was born, was the inspiration for my own life.
From the time I was 8 years old I started saving the shillings Nana gave me to go to England and in 1960 I did her trip in reverse. Mind you, I have inherited Nana's sense of adventure so I jumped ship in Cape Town, our first port of call, asked my cabinmate to drop off my luggage at the Australian Embassy when the ship reached England, and for the next five months I hitch hiked to London instead. My luggage spent its time in the window of the Embassy in London for the entire time I was travelling between Africa and England.I planned to study speech and drama at the Royal Academy – and learn to speak like the Queen. No broad Aussie lingo for me!
After years of elocution lessons Down Under I thought I did speak like the Queen (I certainly didn't speak Broad Australian like almost everybody else). I spoke what was called officially Educated Australian and I had collected several diplomas to prove it (some hang on my office wall behind my desk as I type right now so I will try to add their photos with this post).
Despite speaking what I thought was Educated Australian, I still remember the horror on the face of Professor Greta Colson when I enrolled at the Royal Academy in London.  I thought I pronounced "How now brown cow?" in proper Queen's English but she shook her head, winced and sighed, "Well, it will take time but we'll persevere and teach you proper English."
All these memories come back now that Queen Elizabeth just died and I am glued to BBC's round the clock coverage. During my time in London, I even met the Queen and Prince Philip in person on several occasions, thanks to letters of introduction from people in high places such as the High Commissioner for Western Australia (I think that was his title, Dad was his grocer) and the Mayor of Fremantle, a friend of my other grandmother.
Living in London amid other expats, I remember being invited to a couple of garden parties at Buckingham Palace and one other occasion in a place I now forget. It was in a long, long room where hundreds of guests stood in a vast lineup while the Queen and Prince Philip ambled along the line and stopped to talk to us. I remember thinking that the Prince was so tall and the Queen was so small.
I also remember that Prince Philip asked me, a typical hitchhiking colonial sharing a room at the time with half a dozen other girls in West London's Earl's Court, "How do you cook? What do you eat? How do you heat your room? Where do you sleep?" Our digs at that time had a communal bathroom upstairs and a communal kitchen downstairs (or vice versa, I can't remember). Each bedroom had one small floor heater for all occupants. I was lucky to sleep in the bay windows that jutted out into the street so I had a bit more space than my room mates.
When Prince Philip enquired about my work, I told him I caught the underground train (the Tube) to teach slow learners in London's East End during the day and studied 'proper' Queen's English at the Royal Academy in the West End at night.  In those years, there was little time for sleep. I remember telling the Prince about my passion for cheese. Both the Duke and the Queen have a good sense of humour and make their subjects comfortable.
I can understand why Queen Elizabeth and Prince Philip are so popular. They take a genuine interest in people they meet.
And I hope that they are presently together and enjoying Cloud Nine. Needless to say, coffins are not ideal places to spend the next millennia.
C Lyn Hancock 2022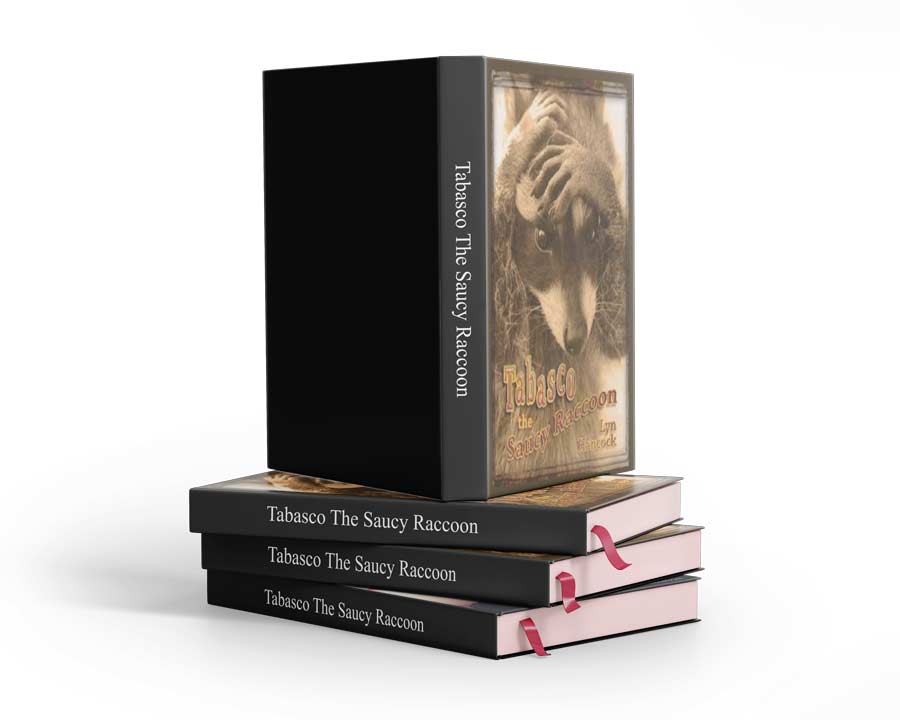 Tabasco the Saucy Raccoon