Lyn Hancock
Award-Winning Australian Canadian Photojournalist, Wildlife Photographer, Teacher and Book Author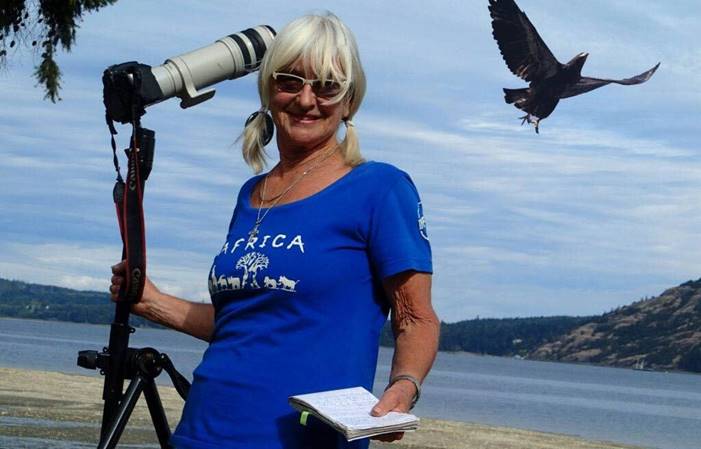 Lyn Hancock
Award-Winning Australian Canadian Photojournalist, Wildlife Photographer, Teacher and Book Author
Eaglet makes its first flight while Lyn films its backyard nest.
Eaglet makes its first flight while Lyn films its backyard nest.
Tabasco The Saucy Raccoon
At three weeks, Tabasco is a tiny, helpless ball of fluff. Already, the little raccoon's life is unusual: tucked into Lyn's pocket or tote bag, Tabasco accompanies Lyn on a cross-country tour, making friends every step of the way. By the time they get home, Tabasco is ready to explore the world—inch by exciting, fragrant, tactile inch. Nothing is safe from Tabasco's clever paws. Dogs run and horses stand still when Tabasco comes to call. For some, the raccoon's like her namesake: a little goes a long, long way. But children flock from all around to play with Lyn's busy, talkative friend. Much as Lyn loves Tabasco, she knows that raccoons are wild creatures, not house pets. The story of Lyn Hancock's search for a new, wild home for her beloved companion will melt your heart. Young and old alike will treasure the unforgettable tale of Tabasco, the saucy raccoon.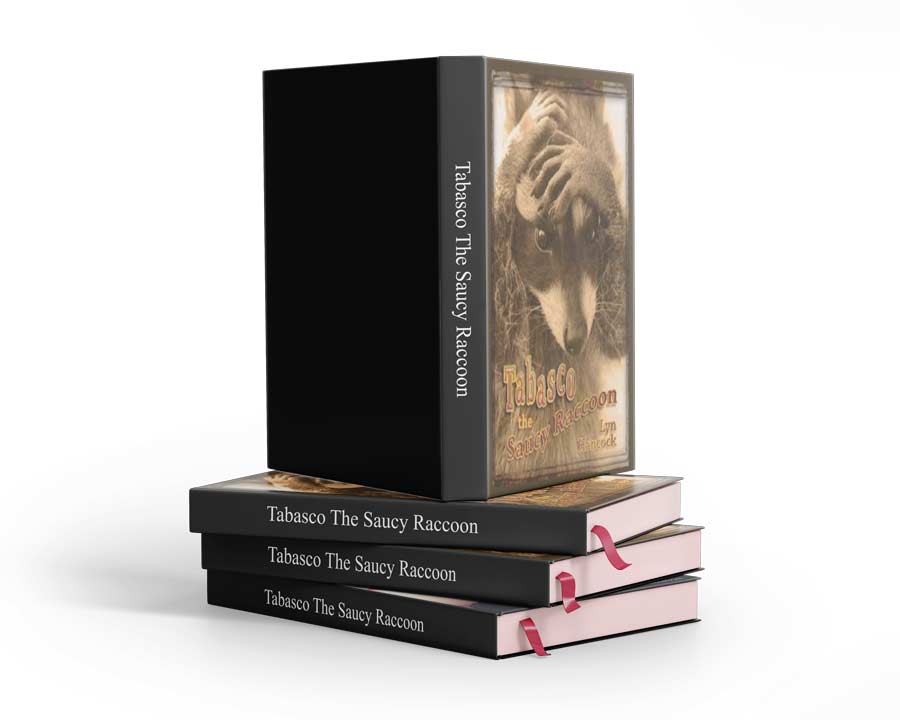 The Ring, formerly published as Tell Me, Grandmother, is the story of Sam and Jane Livingston, Calgary's first settlers, as told by Grandmother Jane to her grandson, Dennis Dowler.
When Dennis asked Grandmother Jane how she got that mysterious ring she kept twisting around her finger, he discovered that Great-grandfather Joseph Howse was the first fur trader for the Hudson's Bay Company west of the Rockies, and Grandfather Sam was a famous gold prospector, fur trader, buffalo hunter and Fort Calgary's first farmer. But it was Grandmother Jane's story Dennis liked best: her life at the Red River Settlement (now Winnipeg), her adventures crossing the prairie in an ox cart and raising her large family in a sod hut. Dennis became proud to be Métis.
This is a fascinating tale of love between a Métis woman and a flamboyant Irishman. Their romance, though not traditional in any way, was symbolized by the ring given to Jane as a token of his undying love. It remains today as a legacy to the many descendants of this remarkable couple.
My Life at the Island View Research Centre on Vancouver Island
This snippet comes from a longer film called "Pacific Wilderness".
My Mum and Dad in Australia always expected to be grandparents of human babies, not orphaned wild animals like Sam the Fur Seal, Tom the Cougar, Boo Boo the Bear, Rocky, and Tabasco the Raccoon. I was often mother to dozens of baby birds, Eagles, Murres, Falcons, Puffins, and the Seabirds toddled behind me in a long line. Yes, I was a mother all right, Mother Teresa of the Wild Animal World.
Lyn is a dynamic, award-winning writer and photographer, a highly-recommended, captivating speaker, an inspiring, widely-experienced teacher, and in the words of a spokesman for one education board, "an extraordinary person." The New York Times added that she has "enough energy and exuberance to light up the streets of New York."
Tabasco The Saucy Raccoon
Teachers are busy people and we hope some of these suggestions prove useful, not only for elementary and secondary school students but for adults as well. Here are some ideas for questions, activities, discussion topics, further research, ways you can correlate your reading, your writing and your science studies, and some background material on the writing process. 
See What Others Are saying
The presentation you gave to our students was most enchanting and dynamic. It kept our ordinary short-attention-span-students spellbound for the entire hour. That is quite an accomplishment, believe me. You are an inspiration.
Shirley Coffin, St. Joseph's/A.McKay School, Halifax, Nova Scotia.
I have had so many favourable comments from the children. One little boy told me "Mrs. Hancock was the BEST speaker I've ever heard," EVERY child in the class bought your Tabasco the Saucy Raccoon.
Maria Vavarikos, Lower Canada College, Montreal, Quebec.
I am a ten year old girl who read Tabasco the Saucy Raccoon. She made me laugh, she made me cry, and now is definitely living in my heart. Thank you for making such a wonderful book. I would love to have you at our school.
READING ALOUD CHAPTER 7 TABASCO THE SAUCY RACCOON Well, what's Tabasco my Saucy Raccoon been up to in chapter 7? We are at our Okanagan home on Trout Creek and it is Christmas, a snowy Christmas. On Christmas Eve Tabasco did what lots of people do - he left me cooking...