Today October 4, 2022 is World Animal Day or so my computer announces.
Well, the animals in my life are much more enticing and life-giving than current useless hours and days sitting at a computer. I am proud of my self-given title: Mother Theresa of the Orphan Wild Animal World and I am happy to tell you how I got that reputation.
My interest in animals began in grade 3 in Miss Love's class at Richmond School, East Fremantle, Western Australia. I would join hands with my classmates every lunch hour and we would accompany Miss Love as she did the rounds of the rubbish bins collecting the leftovers for the pet cats and dogs she kept at her home. Dad was away fighting in World War 11 but Mum got me a dog for a pet I called Peter. When Dad got home from the war, he insisted he give Peter away and get 'a real dog', a hound dog with long legs who spent his time barking loudly and tearing around the outside of the house. He was so frightening that my sister and I stayed inside. When our lavatory (Canada's polite term for 'toilet') was 'down the back' by the greenhouse, that became awkward. So Mum persuaded Dad to get another dog and our compromise pet became Tessa, a bulldog but a baby one. I grew up tolerating Tessa but missing Peter.
Perhaps it was because Dad's own father, my grandfather, had been in the cavalry in South Africa's Boer War, or perhaps because Dad wanted boy kids but got girl kids instead, that I was sent to a horse riding school and spent the last years at Richmond Elementary learning to ride horses and planning to join forces with some of my classmates to have a riding school of our own when we grew up.
It was not to be. I travelled the world instead.
As readers know after reading my first book THERE'S A SEAL IN MY SLEEPING BAG, my long life with animals in Canada started with me getting engaged on my first date to David Hancock while counting bald eagles from a two-seater float plane in Barkley Sound on the west coast of Vancouver Island and in the worst weather he had ever experienced. At a particularly bumpy moment David said, "You are the first girl I have taken up in this plane that didn't get sick. You Aussie girls are tough. Marry me."
So I did – a few weeks later on the other side of the world in Western Australia. And my first wedding present delivered to the church during the wedding ceremony was a live, wedge-tailed Aussie eagle! And waiting for me in my new home teaching school in Vancouver was Sam, a live stranded fur seal from the Pribilof Islands between Russia and Alaska, my first wild animal orphan.
Later came cougars (all four at midnight through my bedroom window) – Tom, Oola, Lara and Tammy – cougars who spent grade four at Lord Kitchener School in the day but went home with the kids at night! I knew nothing then about how fearful people were of cougars. My own love affair with cougars began in earnest with the blind one, Tom, and I look forward to soon producing an audio book titled LOVE AFFAIR WITH A COUGAR – if I can keep my eyes dry.
With the eagles, the fur seal and four cougars, I was quickly gaining a reputation as Mother
Theresa of the Wild Animal Orphan World. Bubu the bear came next, then Rocky my first raccoon who travelled with me for thousands of miles in a small rubber boat up the BC coast to Alaska, then Gypsy a gibbon ape rejected by its own mother at the Seattle-Tacoma Zoo. Gypsy was so human that I felt embarrassed to follow the zoo's instructions and care for her as a human baby. "Otherwise she will die,'' warned the zoo director directly when he brought Gypsy to my house. My kids in grade 6 at Monterey School in Victoria had no such negativity. They spent the whole year, day after day, caring for my orphan gibbon ape and writing wonderful poetry about their experiences. You can find those poems in Gypsy's two books: GYPSY IN THE CLASSROOM and AN APE CAME OUT OF MY HATBOX.
And now I just have Meow for my family, a domestic feral cat who must have read my animal books and that was the reason she left the wild 20 years ago to come and live with me.
I thank the Creator every day for my paradise on Nanoose Bay.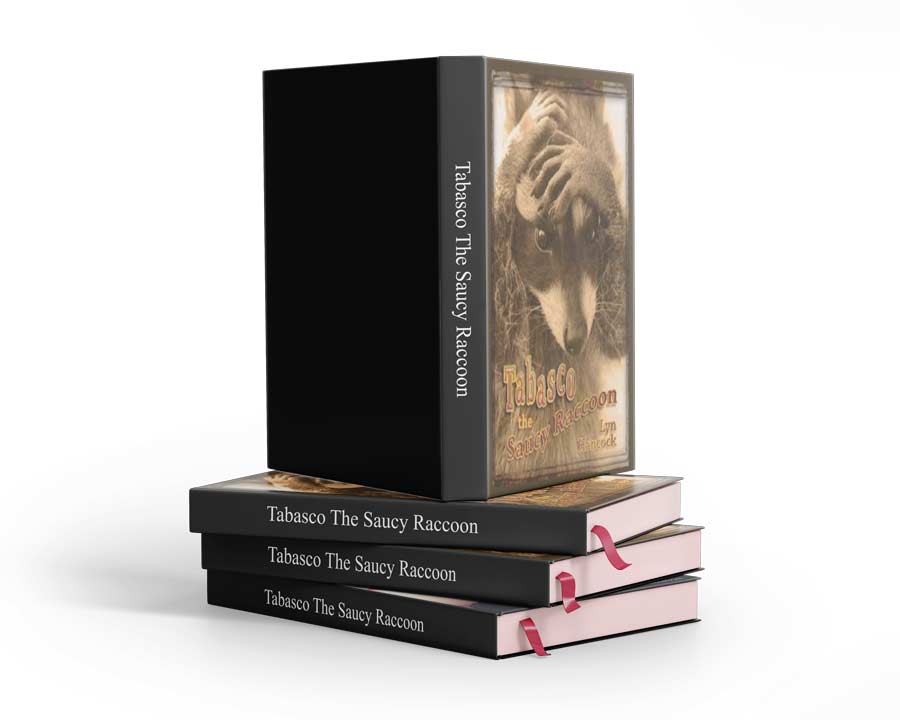 Tabasco the Saucy Raccoon