On the night I shared my bed with four cougars and one husband!
You can read all about it on the first two pages of my favourite book Love Affair with a Cougar which is being reprinted right now in response to reader requests.  Here are the first few lines:
"It was well after midnight and I was alone in the house. A sudden scrape and rattle of a window being slowly raised and I was instantly awake. Above the bed the window curtains moved. Someone or something was climbing into my house!
I froze, too terrified to scream or turn on the light… Something flopped on to my stiffened legs. I bit the pillow to stop myself from crying out….."
I spent that night in bed with four cougars and one husband and I thought, "Somebody should write a book about this!"
At the time I didn't know it would be me. Eventually, I did write two pages of a first chapter on a vintage typewriter and I still have those old yellow pages somewhere on this messy minefield of a desk.
I fell in love with one cougar especially, Tom. He was blind. See the picture of me sleeping with Tom on one of the Gulf Islands near Vancouver Island where I live. You can see more pictures on www.youtube.com/LynHancockwriter Look at the video of me taking the four cougars to school the following day. At that time I was a teacher as well as a mother to orphaned animals.
It would scarcely be allowed now, but I as an enthusiastic Aussie newcomer to Canada, let two of the kids in my grade four class take two of the cougars home. One little boy only eight years old was changed forever.   Read Stephen's poems in the book "Love Affair with a Cougar".  In the video, look for Tammy the runt of the litter crawling into the dark of Stephen's desk then read his poems.
I kept Tom with me. You can see a picture of me sleeping with Tom on one of the Gulf Islands near Vancouver Island where I live. It is a picture that appealed to Jimmy Fallon who featured several of my books on his midnight talk show from New York. He asked his live talk show audience, "Who's the cougar? The woman or the animal?" We all laughed even me who had never heard then of an alternate meaning of the word 'cougar'!
Many years later, I would return to university, Simon Fraser University in British Columbia, as a post graduate and spend several years studying cougars again. My thesis is called Cat of Many Names and Faces. Those four cougars flopped through my bedside window changed my life as well.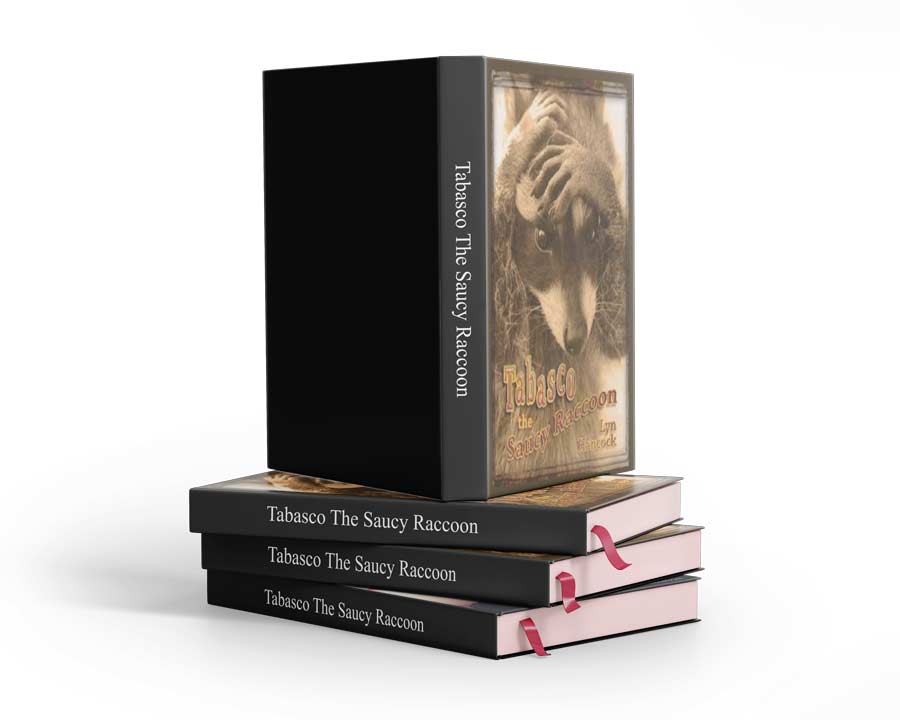 Tabasco the Saucy Raccoon