This is another little video that Geoff Johnson produced the weekend he delved through www.youtube.com/LynHancockwriter. By the way, this You Tube channel was the idea of Joani Herron, who was Joan Hollebone in our "ape class" at Monterey School in 1969 (try to find our book AN APE CAME OUT OF MY HATBOX about Gypsy the orphan gibbon who spent a whole school year in grade six). She is now Joani Thompson. I hope you subscribe to this You Tube channel if not already.
Geoff's shots on this blog will welcome you to my book TABASCO THE SAUCY RACCOON which is one of only two of my titles still available. You can only order Tabasco's book from my website www.lynhancock.com or Amazon or by emailing me at [email protected] or [email protected]
So what about Tabasco? Some of you oldies may remember Rocky Raccoon and his siblings in my first book about raccoons – THERE'S A RACCOON IN MY PARKA. I took Rocky on a 2000-mile rubber boat trip along the coast of British Columbia and Alaska where he learned how to survive in the wild and made overnight fans when we stopped in at the many villages en route.
When the Stanley Park zoo in Vancouver asked me to care for Tabasco, I was a graduate student at Simon Fraser University and living in a third-floor apartment, a 'no pet' apartment (read the book!). We didn't have a boat but we had a lot of adventures (misadventures?) nevertheless. I smuggled the raccoon on 17 flights across Canada and back while we visited schools and libraries, radio and TV stations (Tabasco upstaged famous Hollywood stars like Telly Savalas), we shared a pup tent while camping in the Rocky Mountains.
Now here's a story that is not in the book though it is in my Zoomed PowerPoint presentation that you can register for in April. It is the story behind my picture of the chef of a big fancy hotel in Winnipeg. After a long and exciting day of TV interviews, I was having dinner in the hotel's fancy restaurant (Tabasco was eyeing me through a pierced hole in the hatbox that I used to carry her around the city. I didn't dare release such a curious raccoon in this dining room so Tabasco started telling me off in loud squeals that had neighboring diners staring at my table in curiosity and alarm.
The chef got the message that there was a noisy guest in his restaurant, he left his kitchen, strode to our table, removed my raccoon, and by the time I got to the kitchen, he was holding Tabasco over the stove. "I need a new item on the menu tonight," he said decisively. "Boiled raccoon!"
I can hear your reactions. Don't worry. He was only joking.
But just to be sure, I scooped Tabasco out of his hands (but not before taking a photo) and we escaped to our room upstairs. We spent the rest of the evening lying on the bed, looking at the TV and gobbling down chocolates.
Read the book for more of my raccoon's exploits. She was a celebrity raccoon. She had her face on the first pages of many newspapers and magazines across Canada and the United States. And of course, she lives on as the star of TABASCO THE SAUCY RACCOON.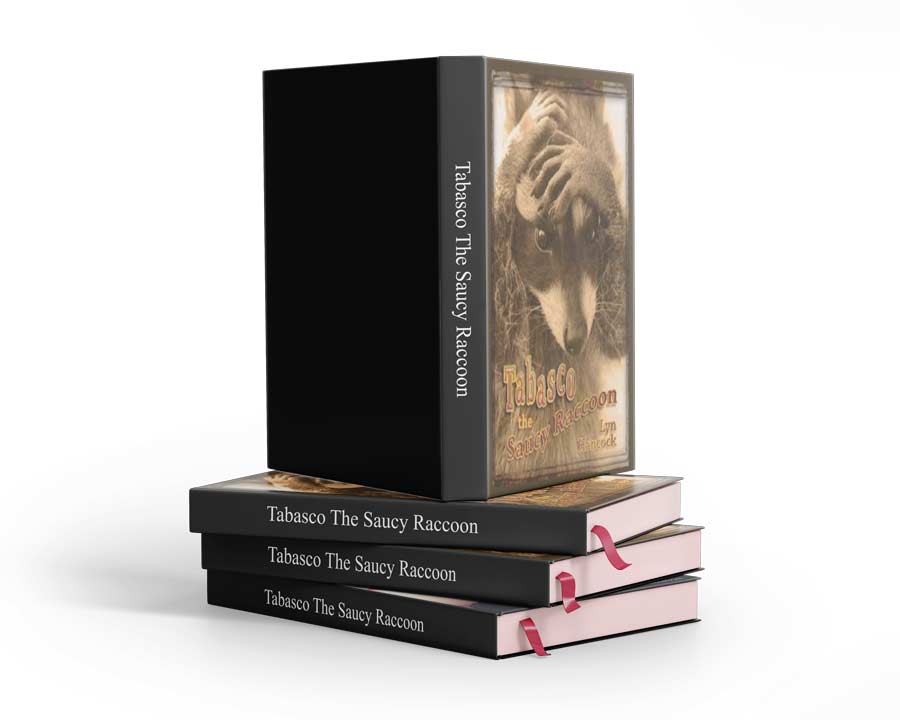 Tabasco the Saucy Raccoon