So how did I, as a speech and drama teacher from Australia, get into this role as Mother Theresa of the Animal World in Canada?
It all started with eagles. On the eve of my departure back to Australia to teach at university after several years hitchhiking in Africa, studying in England, travelling in Europe and teaching in Canada (Montreal), I was working as a waitress in Vancouver while waiting to catch a boat back home to Australia to take on a job at Graylands Teachers College – in essence, to eradicate the broad Aussie accent and having Aussies speak more like the Queen! Okay, I would have failed!
David Hancock studying eagles at nearby UBC (University of British Columbia) picked me up in the restaurant and asked me out on a date. I retorted that this was my last weekend in Canada, that my luggage was packed, I had met my fellow passengers in steerage and I would spend the following 8 weeks boating across to the other side of the world.
And, anyway, I said to this brash handsome man with a beard, "Some friends of a friend have invited me to spend my last days in Canada in their float plane flying to their private island!"
To my astonishment, he replied, "I can beat that. Come to my private island in my private plane – and count bald eagles."
Of course, I didn't believe him. But it was true. He had a float plane, a two-seater Piper Pacer on floats, and he used it to fly around Vancouver Island studying bald eagles. Thinking it would be the last daring thing I would do in my life, I took a chance, cancelled the previous plan and caught the ferry to Vancouver Island, "God's Country" he called it. True. And also true was his eagle study based in Barkley Sound.
I had never been up in a plane before – any plane – and it was a nightmare. David said that never before had he been in worse weather conditions. One mument the plane stood on one wing tip, the next mument on the other in the rain, wind and sleet as we pitched, yawed and rolled to see into the eagle nests.
And then at a particularly bumpy mument, David shouted over the roar of the engine, "You're the first girl I have taken up in this plane that didn't get sick. Marry me!"
And so I did. I sent a telegram home to my mother on the opposite side of the world. "Met the perfect man. Please prepare a wedding for next Saturday. Cancelled the boat. Flying home."
And my first wedding present delivered to the church during the ceremony was a LIVE Australian wedge-tailed eagle as the gift of the local veterinarian who had read the romantic story in the newspaper. And my first child when I got back to Vancouver, was an Alaskan fur seal pup washed ashore on his annual migration to California we named Sam.
You can read the rest of that story in my first published book, the classic bestseller, "There's a Seal in my Sleeping Bag." There are no copies left. If there is enough interest, let me know and I will get it reprinted.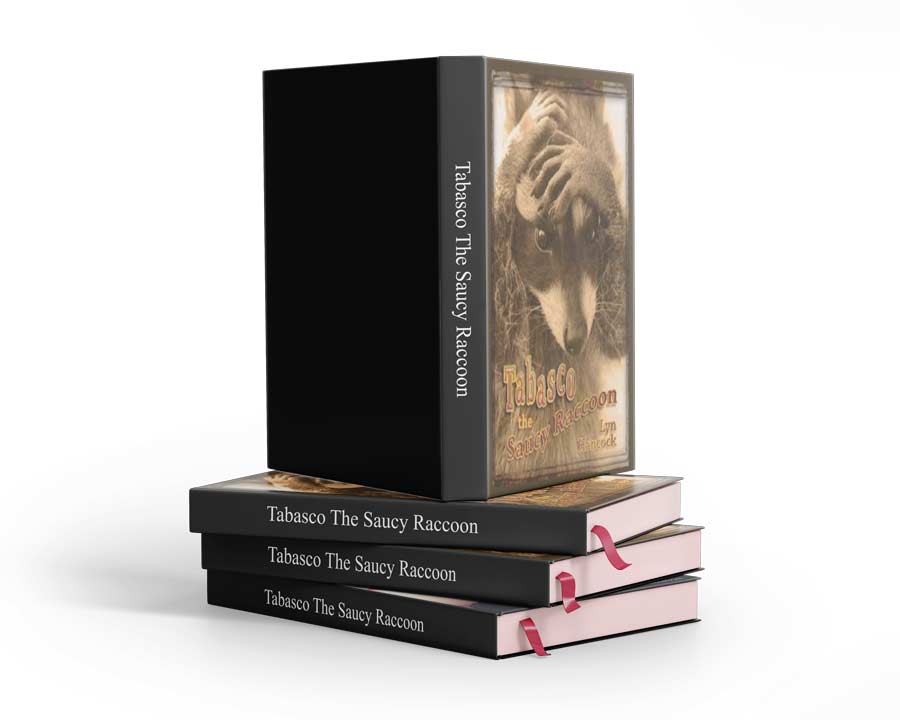 Tabasco the Saucy Raccoon