To Be or Not To Be: the Perils of Self Publishing
Today I sent my latest book The Ring to the printer and after surviving the perils of self publishing, this is something to celebrate, perhaps also because this is my first attempt at a blog.
In 1985 McClelland and Stewart published The Ring's predecessor under the title Tell Me, Grandmother and it was a great success. In those days all I had to do was to type my manuscripts with photos attached, an enjoyable job which took any time between twenty-one days and four years; the manuscripts were edited and designed by in-house editors and designers who became my personal friends as did the publishers; and then I was sent plane tickets for the grand tour across Canada to promote the finished books (less grand across the United States, London and Australia). I was wined and dined in the best hotels and featured in newspapers, radio and TV. The system must have worked because my first book There's a Seal in my Sleeping Bag was still in print four decades later and Love Affair with a Cougar and Tell Me, Grandmother now sell, to my amazement, for more than a hundred dollars on Amazon.
Despite modern technology, in fact because of modern technology, the writer's life was much easier in the 1960s when I started my writing career than it is today, at least for me, a self-confessed Luddite. So let me reminisce on some of the changes.
I was lucky. I, a writer of animal stories, was launched at the right time when interest in conservation of our natural resources was on an upward swing. I started at the top in more ways than one. I was a school teacher and wrote some newspaper and magazine articles but I spent my summers up and down the BC coast by float plane and rubber boat studying wildlife.
I remember well that wonderful day in the mid sixties when I returned home to Island View Beach, dirty and dishevelled after a summer camping tentless on top of waterless seabird colonies off the west coast of Vancouver Island to find a plane ticket to Toronto and an invitation to stay at the Four Seasons Hotel to meet Sir William Collins who had flown out from Glasgow to ask me to write a book. Sir William was the kind of publisher who developed a personal interest in his writers and they loved him in return – Gerald Durrell, Joy Adamson, and certainly Lyn Hancock. Joy (who is old enough to remember Born Free?) was the JK Rowlings of her day and Sir William wanted a follow-up. Another woman who had adventures with wildlife.
Then there was Jack McClelland of McClelland and Stewart who came looking for me at Simon Fraser University (that was easy, he had only to follow the chitters of Tabasco my saucy raccoon who accompanied me to classes). Sir William had died and Jack with his sidekick Anna Porter persuaded me to join their publishing house. Jack gave me Farley Mowat's editor and Lily Miller became another longtime personal friend.
Today the world of publishing has vastly changed. Very few or no grand tours. Very few or no in-house editors. Very few or no in-house publicists. Writers must take on most of the responsibilities that previously were the jobs of publishers. Books are vastly changing. At writers' meetings I am told constantly that people under 30 don't want to read books in the old-fashioned way, they demand books on screens, I-pods, phones, Kindles, Sony readers.
My new book is titled The Ring and believe me, I have been going around in circles since I took on this project, I am ashamed to say, almost a decade ago. As there were no copies left of Tell Me, Grandmother, I was asked by my co-author and her far-ranging family to "put it on line" so the material would not be lost. No, I protested, let's publish a new book and as the only way I knew was the old way, we embarked on what has turned out to be a multi-year project marked by many challenges, mostly because neither Marion nor I knew anything about modern technology.
Our project seemed simple in the beginning. Marion, starting from scratch, bought her first computer and with neither of us knowing anything about scanning, she took on the job of laboriously typing in every word of the original book, her last copy. Meanwhile, I started writing the new story, a story which only came to light after the publication of Tell Me, Grandmother. You can read the details in the new book but let me tease you by saying that a Vancouver Island man read that book and discovered he was the grandson of the book's main characters, Sam and Jane Livingston, the first settlers in Calgary. When he also realized he was Metis, a whole new world opened up for him and his family. The Ring which to me is the beginning of a Canadian Forsyte Saga is the stuff of which films are made and perhaps one day it will be one.
Although I am best known for my adventures with animals or my life in Canada's North, some people know of my interest in history. My method to bring history to life for modern readers is to start in the present, work back to the past, and return full circle to the present, yes just like a ring. There's another more dramatic reason why this new book is called The Ring but you'll have to read it yourself. This blog is to tell you something of how the book was published, not what is in it.
So the content for The Ring kept evolving and the pages kept expanding. Not just more text, maps and illustrations but more archival images and photographs. The more one discovered the more there was to discover. Such is the fast march of history even from one year to another, that I kept returning to places across Canada or asking others to take the journey for me. The book kept growing.
Adding content was a joy, arranging text with pictures was often a source of despair. Kind people came to help but I was impatient with the new ways of communication. I balked at discussing changes on chat lines in a corner of the computer screen, I wanted to work face to face and side by side. I wanted to see my words on paper and my pictures on a lightboard as in the old days. (Dale (on right in photo) and I are posing with the new book.)
So I sought a publisher to do it for me. Several were interested but they wanted me to write their book, not mine or Marion's. One wanted to take slices of the history and scale them to kid size. Another wanted me to take the main character and turn her into historical fiction. Another wanted me to alter the infrastructure and have the story told by a third person who didn't exist. And all, in a declining cutback industry, wanted to fit the number of pages into the slot at the post office which spilled out the least cost for shipping. But with the story more important than the postage, I didn't weigh the pages or count the cost. I wanted it my way.
Finally, I found a publisher who reminded me of Sir William Collins, Jack McClelland, Rhonda Bailey, some of my previous mentors. I was relieved. This publisher was enthusiastic with the book in its current form, sent a contract and even planned the promotion. But very soon afterwards, she lost her funding support, moved to another province, another publishing house, and the deal was undone.
So I decided to do what more and more writers were doing in this age of new technology. I became the publisher myself and hoped I could cope with the new way of doing things.
It was during this phase that several more things went wrong, one after another. Marion (on right in photo), whose idea this story was in the first place and who was going to handle its distribution (the main pitfall of self publishers), died after a terrible accident in Edmonton. The Ring is dedicated to her memory. Then the first helper in my team got impatient with a book that seemed to go on forever and lost enthusiasm for the project. My next helper who asked, "Don't you want to make this book the very best it can be?" cleverly shuffled around text and photos before my eyes and sent off various digital versions of the book to Lulu, the most popular POD publisher. Each came back as published books, looking good on the surface but with haphazard formatting, hyphens in the middle of lines, hyphens at the end of lines, spacing that changed with every publication. What had happened?
"You've formatted it in Word," said my friend and publisher Ursula of Leaf Press. "You have to reformat it in In Design, that's what publishers use."
I had to travel to Australia. "No problem," said my second helper. "I'll learn how to do it." But her sudden divorce and its aftermath ended that plan. The book was delayed for several more months. When I returned to Canada after a book tour in Australia and a medical emergency trip to Belize, there were still more challenges to confront. The original illustrator couldn't find the original illustrations which were needed to avoid background smudging. I broke my elbow so had to cancel my flight to the Calgary Book Fair where I was to promote the book by reading the manuscript. And I couldn't type. Was this book jinxed?
And then in my search to add some missing links to the text, I discovered Dale, the great granddaughter of the hero and heroine of the book and she just happened to be a professional graphic artist, well versed in the new technologies. She jumped aboard, put the manuscript into In Design, changed the font, rescanned all the maps and images, resized all the photos, arranged the chapter headings on the same side of the page, revised the layout, learned how to do a new index with many more names, and added a few pages of text and photos of her own. When the new font resulted in an extra half dozen blank pages which had to be filled, we scoured the web for more historical images and photos. The book got even bigger but hopefully it was getting better.
Dale and I agreed that a book is not finished unless it is finished. One day when we thought our work was done, she commented casually, "Did you know that when my dad at 66 learned for the first time that he was born Sam Livingston 111 through your earlier book and he flew to Calgary to meet his sister who had spent her life looking for her long lost brother, he took with him half of a ragged-edged picture of a little boy. His sister had a ragged-edged picture of a little girl. When the two pictures were put together, the ragged edges met perfectly and each knew they were brother and sister." It's a scene that gives most people goose bumps. It had to be added. When you add, you have to rearrange, and that takes more time. The Ring had a life of its own.
You can be content with the content but copy editing can take weeks. Editing a screen image is not the same as editing a hard copy. Errors you see on the screen are different to the errors you see on a typed page. I do not like scrolling screens, I like turning over real pages and writing corrections with a pencil. We pored over pages in each other's kitchens or in our parked cars. We added multi-coloured stickers to the pages needing corrections. Time and time again, Dale printed out the pages, stapled them together, I huddled over the lines and she took them home to make the changes. With every printed version we found still more things to correct, a comma here, a semi-colon there. Ursula, editor extraordinaire, who likes the old ways turned her eyes as well to the pages and pointed out yet more errors. Perhaps only a period was missing or out of place but we aimed for perfection. It took weeks to deplete the piles of stickers.
Emails flashed back and forth between checkers in Duncan, Lantzville, Victoria, Calgary. Then when I was finally satisfied that all was well, Dale noticed that Jane's name was missing on a caption. The right name had been there for months, suddenly it disappeared and we hadn't touched that page, it had been right since the beginning. "A trickster at work," said Dale, stunned. Perhaps so. I remembered years ago a computer technician came to my house to search for missing data on my computer. He found bits and bytes of stuff strewn everywhere. When he left he commented in disbelief, "Things happen in your house that happen nowhere else."
Finally, came Friday of the last weekend before publication date. Dale copied the very last version of the book to a PDF file ready for the printer on Monday. We had finished. I ordered the champagne.
Or so I thought. "Why don't you do some more fine-tuning and I'll play around with a different cover," Dale suggested by phone. I didn't dare curb her enthusiasm. Meanwhile, not believing that the computer is always right, I spent my time manually rechecking that the index entries matched their respective pages.
Monday morning 3a.m. Dale who had been up all night sent me a new cover. It was more colourful, more powerful than the first one, but what did readers think? As soon as I thought that some of them were up and having breakfast, I emailed it around to gather comments and the consensus was that we make the changes, not only the front and back covers but the new credits and new acknowledgements pages as well.
8a.m. luckily one hour earlier than offices opened in Victoria and Calgary. I emailed the new cover to the senior curator of the Glenbow Museum for her opinion. She seemed to like the changes but reminded me to add one new credit. I decided to add another of my own. I reached for the boxes of files piled haphazardly on the cabinets behind my computer. The cat leaped for them at the same time and the boxes and pages came crashing down. It took a while to locate those two credits amid the mountain of paper on the floor but perhaps it was fitting that an animal had a hand in my history book. They had had many hands in previous books.
9a.m. I thought we were done.
But no, just as Dale (fine-tuning the final edits of the manuscript in the photo on the left), The Ring's graphic artist, was about to click the PDF file to the printer on time, I realized the book didn't have a bar code and ISBN number on the back page. How do you do that? Ursula who is a gem of generous advice said she would prepare it if the printer could not. I had no idea what was involved but I phoned Printorium in Victoria who said they would email the code to Dale who could drop it into the PDF file. Not that I understood what had to be done, but by noon I was told all would be well.
So in a few days, Dale will pick up the proofs, the sample book that shows what the rest of the run will look like, we will approve or disapprove, the proofs will be returned to the printer and five more days after that, The Ring, a ten-year-old baby will be born. At last. "I'm going to enjoy that bottle of champagne," said Dale with a gleam in her eye.
It's been almost ten years. But the work has only begun. Now we have to tell people about the book. A new world of websites, facebooks, on-line radio interviews, flickers, twitters and tweets – and other ways I can only pronounce. I have to turn slide shows into powerpoint presentations (I'm presenting in the Ladysmith Intermediate gym in the photo on the left), change address books into data bases and plan my own grand tour. It feels overwhelming but when members of Sam and Jane's far-flung family learn news of The Ring and write to express their excited anticipation, the long journey seems worthwhile. If only Marion who started it all was here to see it.
But then that's another blog.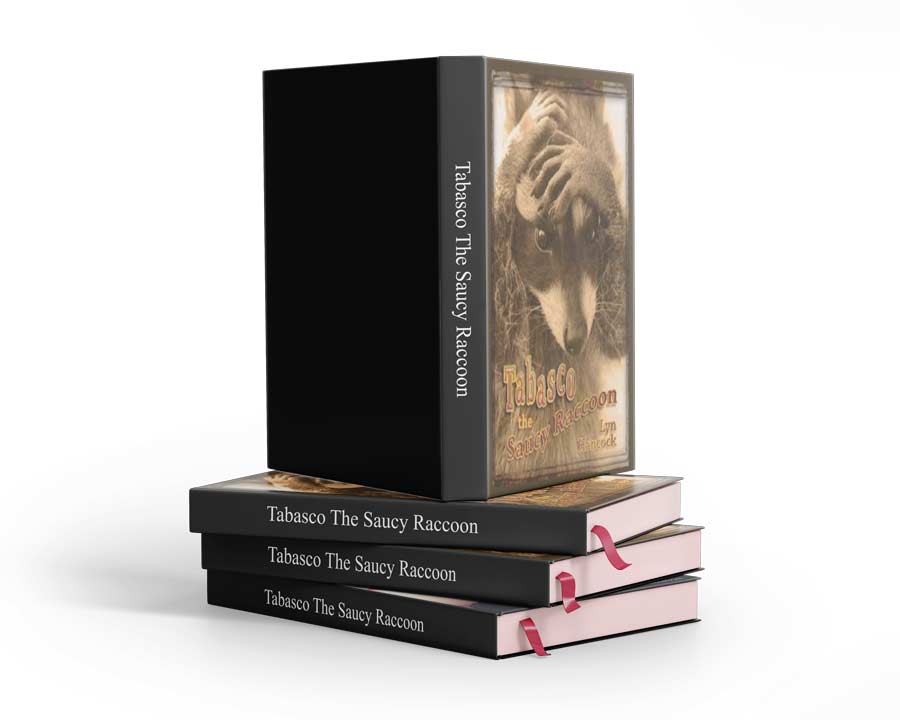 Tabasco the Saucy Raccoon