I just received a photo of my most recent book
TABASCO THE SAUCY RACCOON
in the bookstore on Avery Island in Louisiana. Why did I call the orphan raccoon that was given to me by the Stanley Park Zoo in Vancouver, British Columbia, Tabasco?
I was living at the time in a no-pet apartment near Simon Fraser University where I was studying for a couple of degrees in wildlife communication. The landlady said I was not allowed to have any cats or dogs but she never asked me about raccoons, so I used to smuggle Tabasco up and down three flights of stairs in my grocery bag. Come to think of it now, I don't think Tabasco ever had to share her hiding place with a bottle of Tabasco Sauce.
Why did I name this one orphan raccoon whose mother and brothers and sisters had been destroyed by the Conservation Officer, Tabasco? And why did the Vancouver Zoo ask me to look after her? Because they knew that I had been mother to sealions, seabirds, bears, cougars, coatimundis, apes AND raccoons!
At the time, a local radio station announced a contest: How can people stop raccoons from damaging roofs of houses in Vancouver? The winner proposed to PAINT ALL THE HOUSES WITH TABASCO SAUCE! I liked it. So that's how Tabasco got her name.
And in the months that followed while I smuggled Tabasco the Saucy Raccoon across Canada visiting radio and TV stations, newspaper offices, schools and libraries, Mr. Walter McIlhenny, whose family in Louisiana makes Tabasco sauce, read an article about her in the Montreal daily newspaper and sent us a dozen bottles of Tabasco Sauce! Do you have a bottle in your cupboard? Let me know in a message to this website why you like raccoons and this sauce with your name, postal and email address and I will send you a free copy of TABASCO THE SAUCY RACCOON!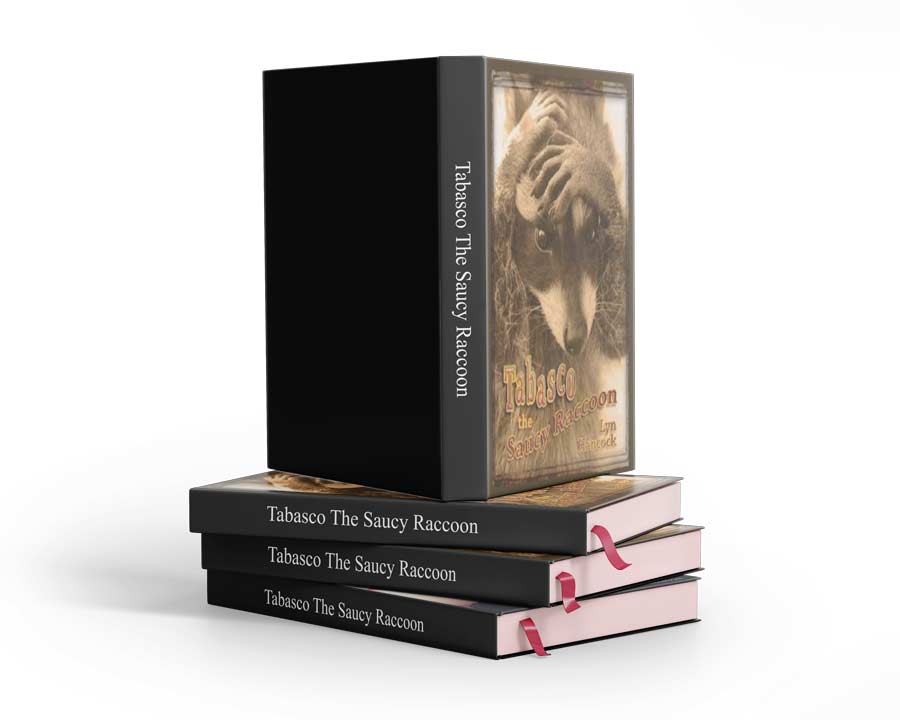 Tabasco the Saucy Raccoon