When you are married to a computer (but wish you were divorced), a stranger to the door can make your day – and that day was today.
And on this cold winter day hovering around zero degrees, Sean from Centra Windows came to measure my windows prior to the installation of new coated glass aimed to retain some heat in my waterfront home.
But when he noticed Jimmy the Chimp and Gypsy the Gibbon dangling from the roof, a Chinese falcon soaring under the glass ceiling, and TABASCO THE SAUCY RACCOON hanging onto her head on the front covers of her books displayed on the bench, he told me he was an avid fan of wildlife. Heat conservation conversation went right out the window and the glass roof of the entranceway, the opposite direction to what was intended when he returned to finish the installation.
Sean was especially interested in raccoons. "My grandfather gave me a raccoon he got from Stanley Park. We called it Randy. He lived with us for five years but when Randy started to live up to its name, we let it go in the wild around Lillooet."
"My first raccoon was Rocky," I chatted on, forgetting as he did, why he had come to my house. "Rocky came with me when I travelled in a 16-foot rubber dinghy up the BC coast to Alaska. You can read about that trip in my book THERE'S A RACCOON IN MY PARKA. No copies left."
But plenty of copies left of my latest book TABASCO THE SAUCY RACCOON. Randy was pleased to have it autographed for his family.
We wandered around the other rooms and hallways of my home, chatting about pictures of my interactions with lions, elephants, giraffes and gorillas in Africa, penises of narwhals in Nunavut, and photos of bald eagles closer to home, nesting here in my own backyard. So we should all be warmer next winter with Centra windows and this year's memories.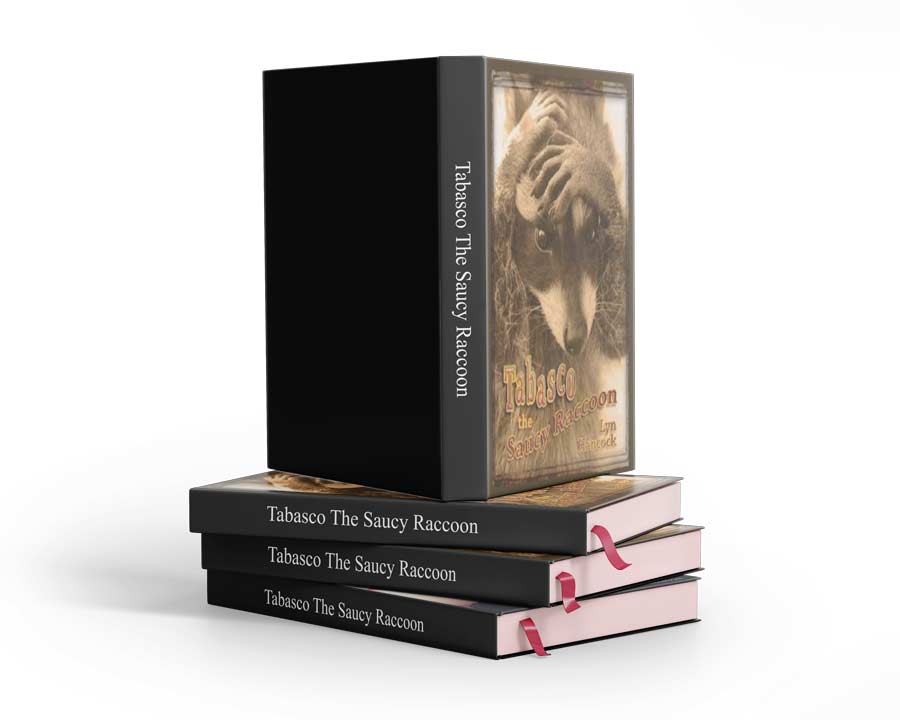 Tabasco the Saucy Raccoon