So here I am in Durban. Last time I was here, in April, 1960, I wandered into the Durban Publicity Association to buy some tours, got talking to the folks behind the desk and they invited me on a couple of weeks' free tours if I became a tour guide myself for a bus load of Afrikaaners coming to Durban for their dream holiday by the sea. Fantastic opportunity – so I did.
This time on the Nautica with Oceania Cruises, I took the shuttle bus to the waterfront at Shakaworld Marine Park and jostled with the hundreds, perhaps thousands, of bodies swimming, surfing, sunbathing, picnicking, and playing music on the beach. What a difference now that apartheid has been abolished! Almost everyone in the water and on land was black and all were well dressed and in holiday mood. But I was told that in the more affluent area of resort hotels further along the mile-long crescent of sand, most people were white. I invited myself to a smiling family group sprawling on lounge chairs under their canopy tent and asked to take their pictures. "We live peaceably now," they told me.
In 1960 I had met a couple who took me to the Hluhluwe Game Reserve now a national park where the rare white rhinos lived. We had our own personal guide to do our tracking and it was an exciting mument when one of the rhinos charged. Next day, the pregnant wife gave birth! This time, I visited Tala Game Reserve, one of the private reserves that seem to have proliferated in the intervening years. Many of these private reserves are established on former sugar cane fields and I was a bit disappointed to see the one at Tala surrounded by  roads and chicken farms. It was a little like a zoo.
Still, it was wonderful to drive slowly along the sandy trails through the acacia thornveld and wetlands and see so many animals living out their natural lives on more than 7,000 acres. I never stopped clicking pictures.
There were no elephants or lions, leopards or cheetahs, but I was thrilled with intimate views of white rhinos plodding ponderously beside us, primeval looking hippos facing off for play fights, baby giraffes sucking milk between the splayed legs of their mothers who several metres above were scratching their heads on the tops of the thorn trees, warthogs urinating, impala defecating.
Although familiar with the striking body patterns of African animals, here so close they seemed more vivid: the black and white and brown stripes of the zebras, the geometrical orange squares and oblongs of the giraffes, the finely etched black lines of the impala and kudu.
Groups of wildebeest grazed on the grassy plains. Egyptian geese and flocks of waterbirds swam and waded in the wetlands. Resplendent yellow weaver birds clung to reeds as their nesting bowers bobbed in the breeze. Ostrich chicks, tall as their parents, ruffled their feathery dresses, strutting their stuff.
It was nearly dark when our guide returned us to the gates for  the trip back to the ship. I am happy that game drives and safaris are so popular in Africa, whether public or private, that animals living their lives in the wild are supporting an economy for all and acting as a deterrent for poachers.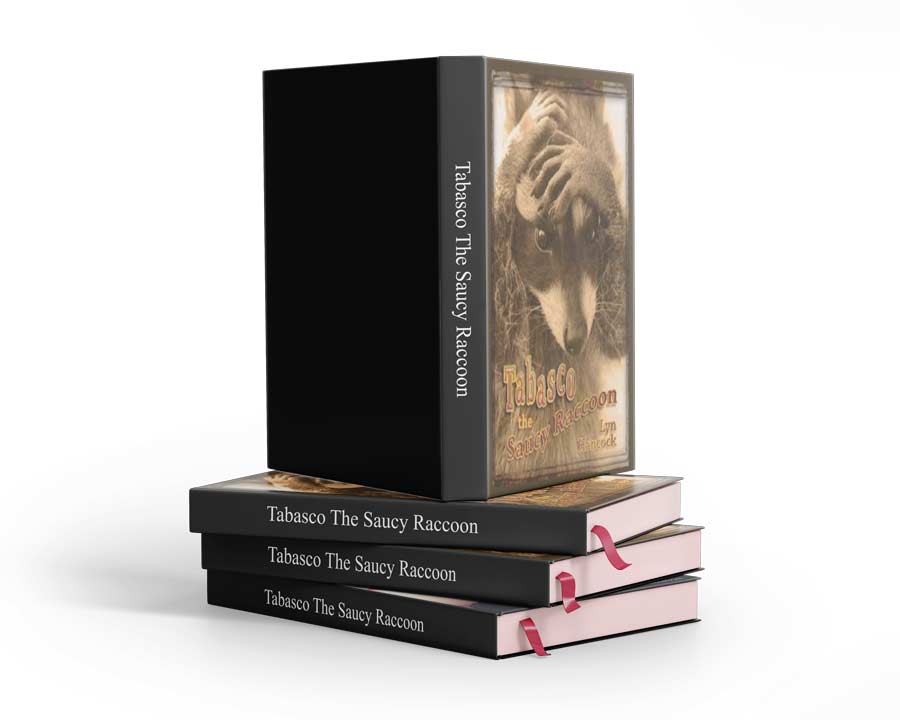 Tabasco the Saucy Raccoon