Buenos Dias from Buenos Aires which a couple of days ago had 80 inches of rain in 20 minutes, and caused havoc in this city of tango, parks and monuments – people were waist-high in water, power was off and traffic was stalled. I returned from Iguazu Falls in both Brazil and Argentina an hour or so ago to find I had to move hotels because of the conditions.
 Tomorrow I squeeze in a couple of hours at a famous cemetery here in Buenos Aires, a cemetery full of ornate tombs and imposing statues, not to mention the humbler grave of Eva Peron.And then for the next 40 days I will be on the cruise ship the Insignia, the same ship I toured Turkey and Greece two years ago, for a total circumnavigation of South America. I would love to continue a blog from each major adventure and will try to click some words en route.But I am doing long shore excursions on most days and difficult on strange computers, especially this one which is Spanish and very different than what I am used to.
Highlights? Losing my Spanish speaking guide on a tour of Buenos Aires, trying to help a few of my fellow passengers who also lost her, slipping on a cracked pavement, helped up by two gallant men who found our lost bus, eating a gargantuan beef steak that seemed as big as the Wall of China, revelling in a tango show in the theatre but also on the street and wishing I had time to find my own tango partner, flying to Iguaza Falls which at three kilometres long is the longest series of waterfalls in the world and now one of the New Wonders of the World, walking the catwalks that snake around the islands in the branches of the rivers that produce these waterfalls, getting drenched in a rubber boat that bored its way through the deluge to the screams of my companions, but most of all rubbing noses with families of coatimundis (South American raccoons) that rooted busily around the subtropical undergrowth on either side of the trails to the falls. Those who read my books may remember Pixie and Pete, two orphaned coatis in my grade six classroom at Monterey Elementary in Victoria. Bandit faces, long noses and stand-up striped tails. I loved seeing coatis in their natural habitat. Next? Perhaps a puma or a jaguar?
Finally, a salute to the people I have met in Argentina and Brazil-all unfailingly polite and friendly.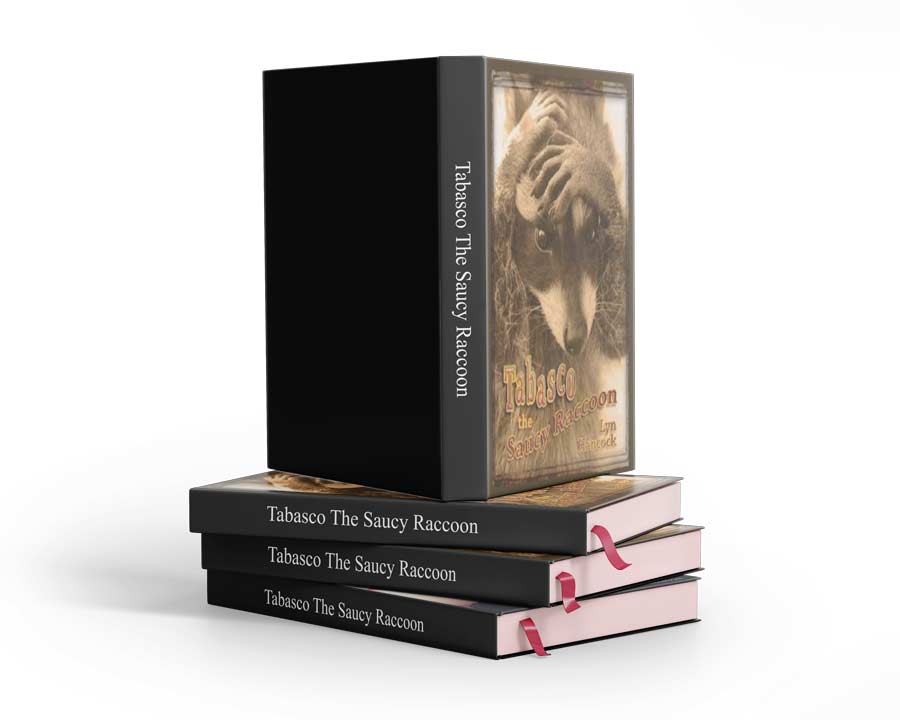 Tabasco the Saucy Raccoon