"Lyn! Under the table. Right now!" Sylvestre yelled, pulling me to the floor.
A gunshot reverberated through the near empty restaurant close to my left ear. One of the two policemen we had been talking to at the table dropped down beside me. Another shot rang out by my right ear.
What was going on? I didn't feel shock or even fear. Like two other near death experiences in my life – one, getting chased by a grizzly, the other near drowning in a northern river, I felt I was a character in a movie, someone else's story. The drama is not happening to me. Storytelling relieves the stress.
I had just arrived that day in Belize City by overnight bus from Cancun, Mexico. Sylvestre who has long been my trusted guide and bodyguard in Belize had met me at the bus station and we had an appointment to meet his nephew Romeo, a no-nonsense member of the city's serious crime unit now patrolling an area of the city where gangsters had been trying to kill policemen, in fact Sylvestre said a policeman had been killed the month before. "Be careful, Lyn," was his mantra.
Believe me, I remained head down on the floor beside the rookie policeman on one side, Sylvestre on the other. This is one time I didn't dare take out notebook or camera.
I'll let Sylvestre describe the action. He was more excited than I was. I wish I could speak and write Spanish, a far more colourful and dramatic language than my prosaic English.
Usually I choose a seat, a window seat with the best view of the action, any action, but this time I sat at the table with my back to the wall between the large grilled window and the wide-open door. Handy when you have to escape bullets shot from the street. Romeo sat opposite me with his side to the wall and only his ample back was exposed to the open entranceway. His assistant sat next to him, his uncle Sylvestre at the end of the table facing both the window and the door, a habit born many years ago as a security guard and policeman himself.
"I saw a car slow down as it approached the restaurant. The driver looked at me through the open window, he must have thought I was a policeman, he must have seen Romeo and his rookie hanging around the restaurant waiting for us and decided to kill them. I could see his face clearly. I saw him bend down to put a bullet into his gun and that's when I pulled you to the floor and the shot rang out." Sylvestre said
As soon as Romeo heard the shot, he swung around in his chair and jumped to the other side of the doorway. The gunman shot his second bullet which landed in the wooden frame of the door. Romeo may be a large man but he is quick on his feet. He calmly stepped into the open doorway, took aim at the gunman but the bullet hit the car and the man drove off.
By this time an army of police and soldiers in pickup trucks filled the street, the big chief had arrived and was asking Romeo questions, detective types were examining and photographing the bullet holes in doorway and window and Sylvestre and I were told to stay inside. Romeo said we were his family so we were not questioned. The terrified lady about to fill shelves and open her own restaurant had emerged from her kitchen and was standing on the sidelines in shock. I think we had been her first customers. An opening to remember!
Of course I wanted to take photos but Sylvestre told me sternly to put away my camera, shooting crime scenes was prohibited.
A lady on a bicycle riding by on the other side of the road had witnessed the gun battle. She said she knew the shooter and where he lived. She would be glad to testify in court. "You are a good policeman, Romeo, we need you on our streets."
Here is a pic of Lyn in her kitchen in Sarteneja beside her beloved mural of her village of Sarteneja above and below water painted by Chuye, a local artist. Sarteneja is well off the beaten track of gangsters who try to kill policemen. Lyn is saying thanks to the Great Spirit and her band of guardian angels for saving her from bullets in Belize City.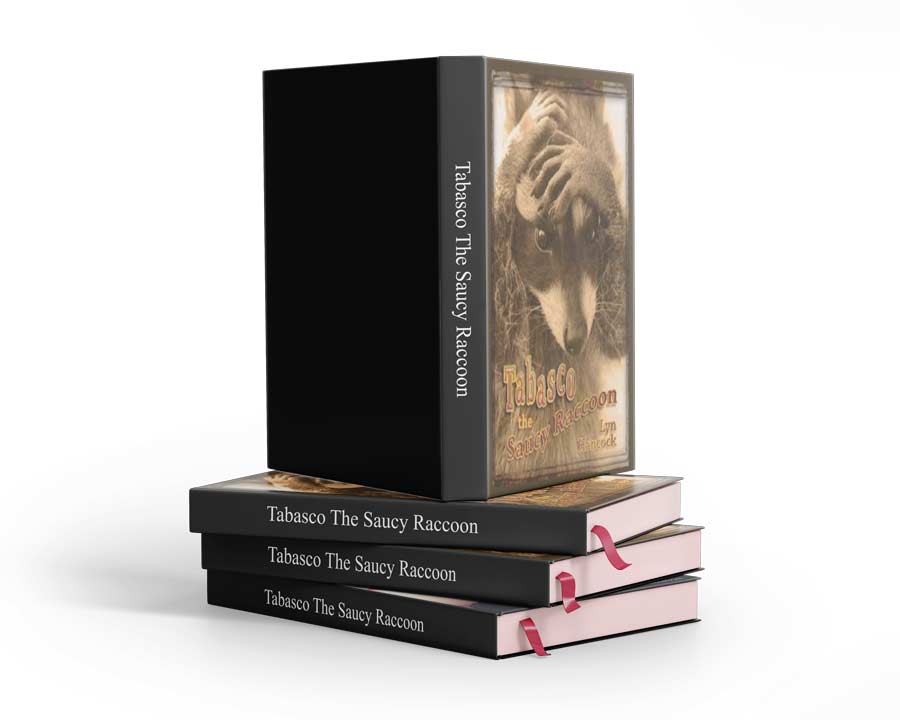 Tabasco the Saucy Raccoon