One of the joys of travelling is not necessarily what you plan but what comes along when you travel with a smile and an open mind.
Who could have imagined that when I booked trips to Belize with Island Expeditions that I would meet Sylvestre, an Audubon warden on Lighthouse Reef, persuade him to look after a motherless booby bird chick, and become an adopted member – and mother myself – to his far flung Mayan family. I have returned to Belize often in the last several years to stay with his relatives and last year Merari asked me to be a bridesmaid at her wedding to Efrain in the traditional fishing and boat building village of Sarteneja.
I flew to Cancun, Mexico and caught a bus south to meet the bride and groom in Chetumal, the last Mexican town before Belize. They had come north from Belize to make sure I got safely to their wedding. We would need three more buses before we arrived in Sarteneja. Taking a bus in Belize can be an adventure in itself. Need gas or water for the radiator? Just stop at a house and pour a bucket of it into the bus by hand.
Need to cross an inlet? Stay in the bus while it drives onto a ferry that looks like a raft and help to hand winch yourself across the water. Want to meet the locals? Easy with the friendly multicultural people of Belize. I caused gales of laughter when one of the passengers who was trying to teach me the accurate pronunciation of a Spanish word (or was it a Mayan word?) pursed his lips forward in an exaggerated manner and I asked him, "Are you trying to kiss me?" I don't suggest you try such daredevilment with strangers yourself and it was probably lucky for me that I found out later at the wedding that he was one of Merari's relatives.
It was a privilege for me to be treated both as member of the family and a treasured guest. Merari's parents, Elis and Agustina, are particularly industrious and never seem to sleep. Their days begin at 3.30am when they tote their load of fish on a two-hour bus ride to sell at the market at Orange Walk and don't get home again till late at night. She had to be exhausted but Agustina would always cook me something special, clear a space at the table, grin and say, "Eat!" And then "Right now." These were her few English words.
Preparations began the day before the wedding and continued through the night when the temperature cooled. Her sons – conch and lobster divers home for the wedding -drove the fish trapped in the family's nets to Elis's punt while I sat with him in the tippy boat and took pictures. Fish would be a staple at the wedding. But the boys also prepared conch and lobster cerveza. I got a special treat when Odiar, knowing that I had grown up in West Australia feasting on my dad's saltwater crayfish (lobster) barbecued two whole lobster on the outside fire just for me. Food had to be prepared not only for the wedding guests but for everybody that came to help, men, women and the many children.
Elis and Odiar cut up limes for the water to wash the chickens and peeled oranges for their marinade. The women plucked the chickens and smeared them in a multitude of spices – red ricardo, black pepper, garlic, cilantro, paprika and others unremembered. Some of the chickens would be cut up and stewed in a big cauldron, others would be stuffed with beef meat seasoned with another bewildering variety of spices then stewed in a separate cauldron. Agustina stayed up all night stirring the pots.
But you can't have a meal in Belize without rice and beans. My help was miniscule but I did offer to open some of the many coconuts needed to add shredded coconut to the rice and bean mix. Not very well! I had lost most of the coconut water before Agustina took over and finished the job. I retreated to the kitchen where Merari's sister Mariluz who had given up her bed for me in the crowded house, was putting a giant splayed snapper in the oven. Slathered in tomatoes, onions, green peppers, mayonnaise and what seemed like a red ricardo sauce (one of the main spices in Belize), it looked more like a pizza than a fish but it would be one of the tastiest dishes at the wedding.
The only dish I didn't like in Belize was chicharon which I had for breakfast. This was what was left of the chickens – heads, feet and beaks simmered in a fatty stew with heart and kidneys and other innards. I was glad it was accompanied by the ubiquitous tortillas. Making tortillas is a constant activity, not only for family meals but giving them to the children who whizz around the village on their bikes to sell them door to door. I kept the tortillas and took the chicharon to Sylvestre who was attacking the jungle with his machete to clear his lot.
Day and night melded into one. The lady who was to be the hairdresser arrived just before midnight to do Merari's hair and continued into the early morning.
Belizean girls have long glossy straight black hair and I had grown mine specially for the wedding to have it long and straight as well. To my surprise, the hairdresser set Merari's locks into dozens of little green drinking straws which next day transformed into dozens of long shoulder length curls. She looked gorgeous as brides usually do on their big day and she must have had the most elegant wedding dress in the whole of Belize. She was the first Belizean to order a wedding dress from China over the internet. I arranged the transaction but I worried that it would not arrive in time. No problem.
Our bridesmaids' dresses came from Guatemala. It seems that every week or so "a man from Guatemala" comes around the villages with an assortment of dresses for weddings and the sisters had all bought their bridesmaids' dresses months in advance. Mariluz who has a heart of gold had given me the one she had chosen for herself and then had to make another one for herself.
By North American standards, conditions are primitive in many Central American villages. There may be only one tap and often it is outside the house, there may be no running water at all. To wash you just fill a bucket with cold water and pour it over your head. Despite such conditions, the constant heat and humidity,and the sandy roads, I am always amazed that women emerge, immaculately dressed, beautifully coiffured and cool as the clichéd cucumber. I, on the other hand, invariably look hot and bothered.
And though my only real job before the wedding was to take photos, I was the only one not ready. As the other bridesmaids waited at the door to walk to the beach, Merari's hairdresser said, "What do you want me to do with your hair?" I had been planning my hairdo for months but now I could only say blankly, "What can you do in a minute?" Quickly she pulled sections of hair on top of my head and fixed them in place with pins. There was no mirror so I didn't see the effect till much later when I saw the photos but I believed Sylvestre when he laughed and said, "You look like a plucked chicken."
Merari and Efrain, flanked by their two witnesses, stood under the coconut trees at the edge of the water. We bridesmaids, the pages and the flower girls sat in the front row of pews that had been trucked over from the family church and decorated with ribbons and rosettes. The pastor who had driven in from the capital city of Belmopan conducted the service. As it was all in Spanish, I didn't understand a word but it seemed a long fatherly monologue to the bride and groom. There was no exchange of rings (I was told that the family's religion believes the unadorned body is beautiful enough) but what was different was the rope that was wound around the necks of Merari and Efrain after they were pronounced man and wife. I chose not to ask why.
Being both a bridesmaid and the photographer was a challenge especially as everyone, particularly the bride and groom, were anxious to get back to the house for the reception and all that food that had been prepared nonstop for the past day and night. Also challenging was fitting everybody posing for an official photo on the wooden pier in the photo without having anybody fall into the Caribbean sea – me included. I wobbled around trying to fit everybody in and trying to avoid locking my silver high heels between the planks of the pier.
Then there was the challenge of trying to get people to smile. There must be some rule in Belize that you have to be solemn in official wedding photos. I did get Efrain to start laughing at one of my weak jokes but he pressed his lips together to stop a smile the second I pressed the shutter. A few hours later back at the house as the couple were cutting the fantastic blue and white-ribboned wedding cake with its waterfalls cascading from tier to tier, I did get my one shot of both the bride and groom smiling. The work was over and the fun could begin. "This has been the best day in my whole life," Merari said.
And thanks to my adopted family and friends off the beaten track in Sarteneja, this had been the most memorable wedding in my whole life.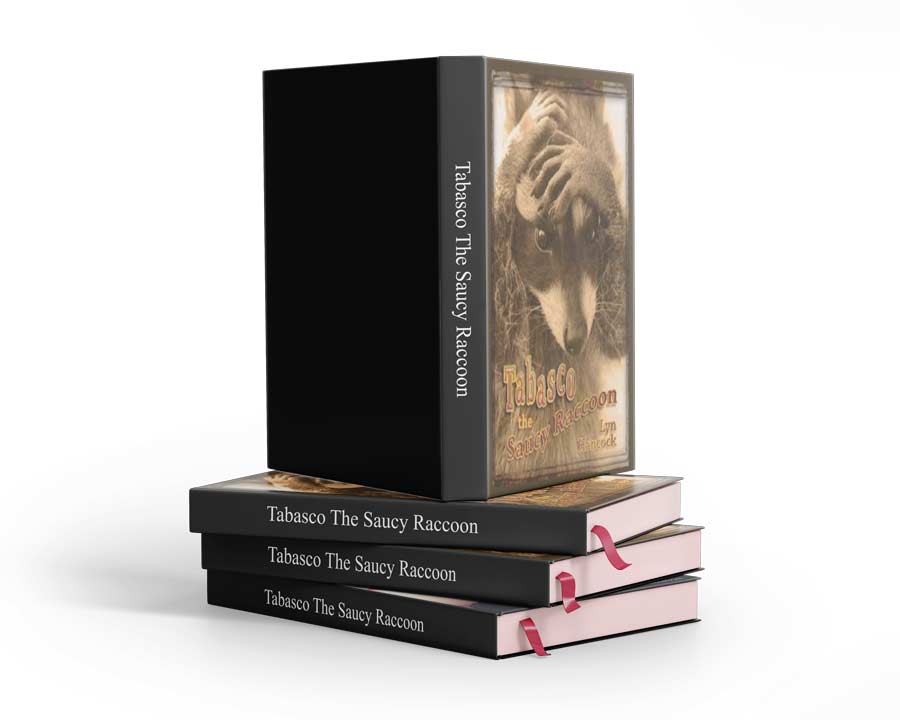 Tabasco the Saucy Raccoon