A couple of months ago, a man called Joe came into my kitchen and took my purse containing my cards and money – credit cards from three countries, ID cards, address cards, driving license et al – and though the RCMP responded immediately, found him within an hour, returned my purse (not all the contents) and jailed him for a night, I am still reeling from the effects. The officers said he was well known to them and once upon a time he had spent two years in jail for robbery.
My life has always been a story but this one I would prefer to be fiction, not nonfiction!
I am known for my naivety and my trust in people but I am floored by the fact that when Joe came to my door and said he knew of my need for a computer helper, I eagerly invited him inside, sat him down beside me at the computer and explained my needs. I didn't ask for any references, or any proof of his services. I did write down his address, phone number, and email, none of which were valid so I have since been informed.
Then when I noticed he was wearing a camouflage-colored shirt (camouflage seems the fashionable rage right now even for ladies' light pants, blouses, and dresses), I surprised myself with a sudden rush to my living room cupboard to forage for a gift for him of one of my two never used heavy camouflage photographer or hunting jackets with big pockets for lenses and cameras or army-stuff guns and bullets. They were top of the line jackets with a famous name Leonard Lee Rue from New Jersey, they cost me $400 US each, and came air express, though with my husband Frank and I live in the bush on the Mackenzie River, the last part of their journey was by dog team. I planned for Frank to use his for hunting and mine for photography.
It didn't happen. We got divorced soon after that (another subject) but I kept the two jackets. And there they have lived with me in the wardrobes of one trailer and a couple of houses for the last 50 years or so – till I spontaneously presented one last week to the would-be robber. He might still have it unless he sold it which is the most likely outcome.
"That's a down payment for your computer services," I laughed as he left my house by the backdoor kitchen.
However, the next step in this saga is going into the kitchen a day or so later to collect my handbag and finding no purse inside. I had been robbed.
But he and his girlfriend certainly wasted no time in using my credit cards, all three countries of them. They tapped their way by taxis to shops, restaurants, hotels…till the RCMP caught their man. I wonder why they stole my driver's license. And that's not all.
I wonder where my photographer hunting jacket went – and if I'll ever find out. I will add a photo to this blog so that if anybody sees it, they can figure out a way to seize it and return it to me.
Oh…I just remembered. A neighbor told me that the thief and his gal friend spent two nights sleeping in my unlocked book room (at the time) beside my last 3000 copies of my most recent book TABASCO THE SAUCY RACCOON. Gee whizz! They could have at least paid for two books with my credit card, right?
Well, that reminds me! Would you like an autographed copy yourself? Special price of $10 in dishonor of my robber!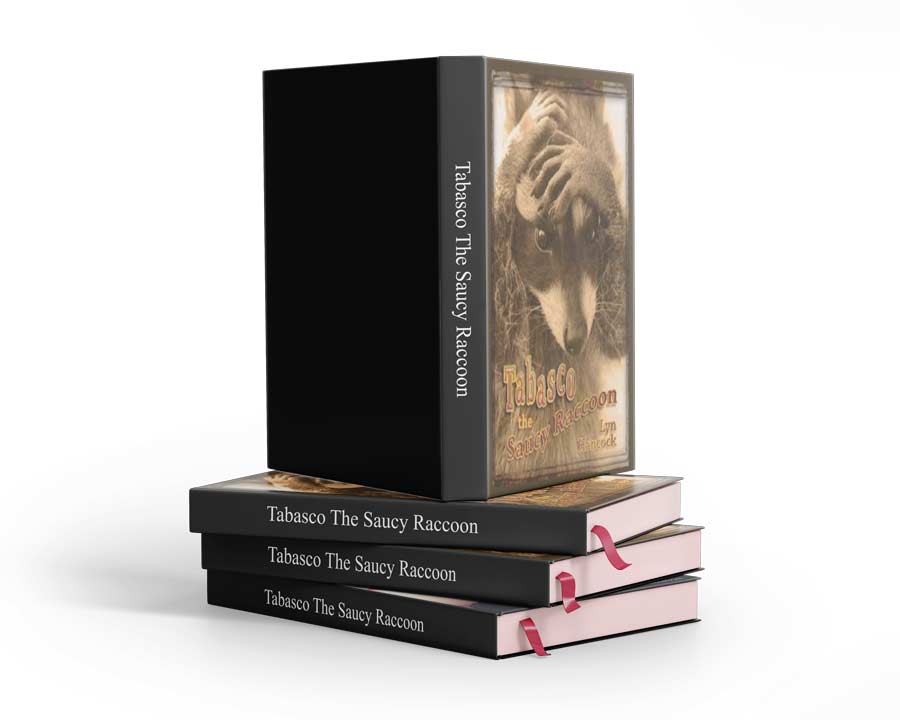 Tabasco the Saucy Raccoon