I love where I live now in Lantzville on Nanoose Bay near the city of Nanaimo on the east coast of Vancouver Island in British Columbia, Canada. But nothing in my life is simple, not even a house.
Officially I live in Lantzville but if you follow the highway signs to Lantzville you will get to the little village but you won't find me. Now I live right on Nanoose Bay but if you follow the signs to Nanoose Bay, you will get to a larger village on the other side of my bay but you won't find me.
I started to think of houses I have lived in during my time in British Columbia and few have been normal, well some people say I am not normal, and that's okay, I think not being normal can be more fun. Read my books to see/read for yourself.
Funnily enough, I didn't even buy my houses in the normal way. Like most things that have happened in my life, they just came – here's a couple of examples:
Take the one I live in now in "Lantzville".
My second husband Frank Schober and I were driving down the highway along the east coast of Vancouver Island on our way back from Australia and on our way forward to the Northwest Territories, when I was attracted to a big sign on the other side of the road "Artists Dream Retreat".
"Wonder what that means?" I commented to Frank. "Let's go find out," Frank replied as he crossed the road (no median then), drove through the open gate and down the steep driveway to the right of two houses at the ocean's edge.
The two owners sitting at a table having tea looked up enquiringly. She was a potter and the second house, the chalet, was her studio.
Just as I was about to explain our unannounced presence, I noticed a couple of books on the table. "Why you have two of my books on your table!"
"So you are Lyn Hancock?" the lady said with a smile.
That broke any ice before it was formed and a few minutes later, she said, "We are putting this house on the market next week. You should buy it."
"No," I laughed. "I already have a house – in Mill Bay down the highway – and a trailer home in Fort Simpson."
My husband drew me aside to whisper," Lyn, if you sell Mill Bay and buy this place, I will carry you across the threshold and make mad passionate love on the polar bear rug in front of the red brick fireplace – and be a happy man forever."
I am an incurable romantic. So I did.
I sold my house in Mill Bay which had been rented out during my years in the Northwest Territories and Nunavut, and a short time later moved in to turn my new house into a home.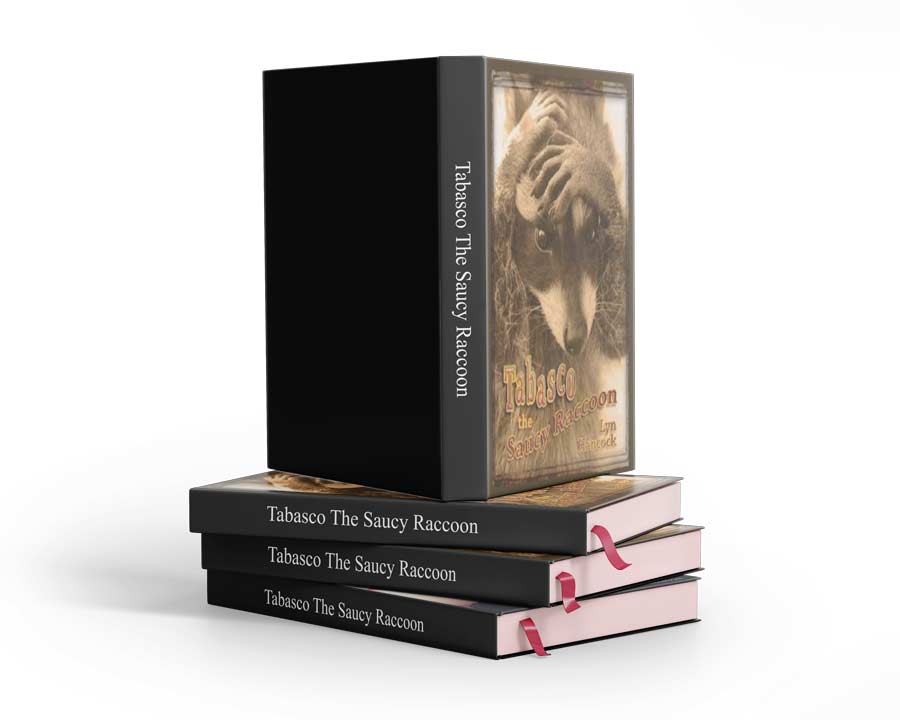 Tabasco the Saucy Raccoon