As readers of my books know, my life experiences have been unusual, and that includes animals that have been my pets. Certainly, Sam the Seal, Bubu the Bear, Tom the Cougar, Rocky and Tabasco the raccoons – and a whole household more.
They are all wild animals, orphaned wild animals given to me to raise when I came to live in Canada. But my current companion Meow is a domestic pet who came in from the wild one day many years ago, caught a rat in the outside chimney – and has lived with me ever since.
LIFE IS ALWAYS DRAMATIC AROUND HERE. JUST AS I WAS WRITING THAT SENTENCE, MEOW GALLOPED INTO MY OFFICE FROM THE KITCHEN, JUMPED ONTO THE PRINTER BESIDE ME ON MY DESK -SKIPPED ACROSS MY FINGERS ON MY COMPUTER KEYS, AND IS NOW DOING HER DAILY ABLUTIONS ON MY CLUTTER OF FILES. I GUESS IT IS NOT YET TIME TO SLEEP ON THE KEYS.
She messes up my already messy three-table desk but other than that she is a very clean cat. She spends most of her waking hours licking, picking, and scratching her striking white and grey fur coat. Soon she will choose which of my many papers, letters, and books to lull her to sleep.
No, BANG! CRASH! SHE STARTED TO SCRATCH A MORE COMFORTABLE SLEEPING SPOT IN MY PILES OF UNFILED PAPERS AND THEY ALL TUMBLED TO THE FLOOR. SO THERE GOES ANOTHER WASTED DAY IN THE LIFE OF MEOW AND LYN HANCOCK.
My other buddies – human ones – tell me I spoil Meow. She is very fussy about which can of cat food she chooses to eat. It has to be swathed in just the right amount of drippy liquid but when I buy her cans that advertise 'for gravy lovers' she ignores those words and chooses instead to slurp into my yoghurt.
I'll go get the camera – if I can find it! – and click on some of today's pictures! They might be worth "a thousand words" as the saying goes. PS I used to put her dishes on the floor beside my chair but she insists on jumping up to my table (despite her old age of probably 20 years), checking on the competition (what I am eating), and either joining my plate or jumping down to her own plate.
Lyn Hancock c 2022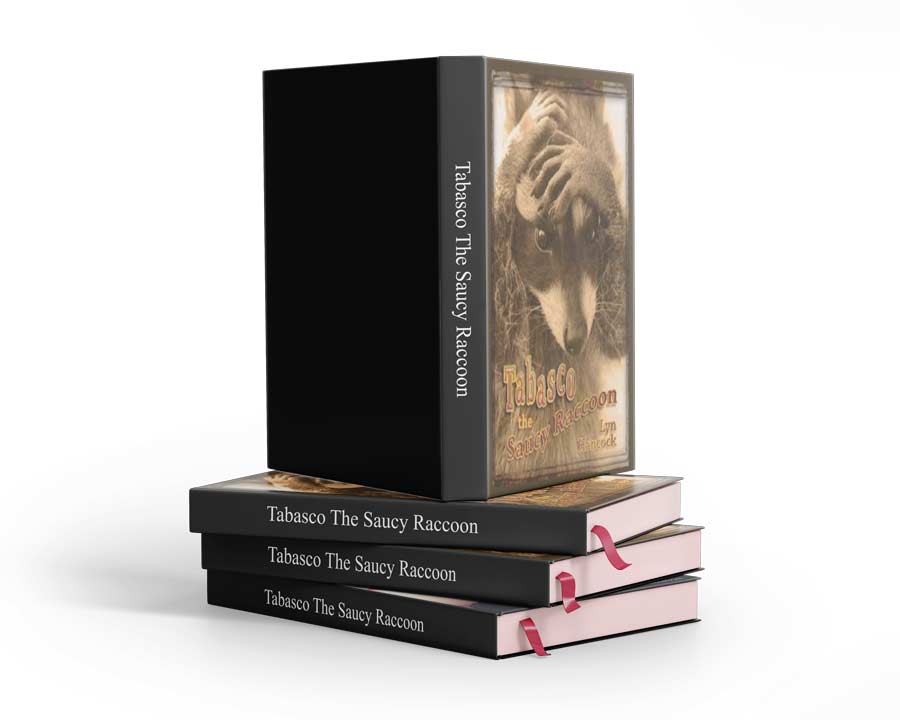 Tabasco the Saucy Raccoon